« Back to home
Published: Jan 22, 2018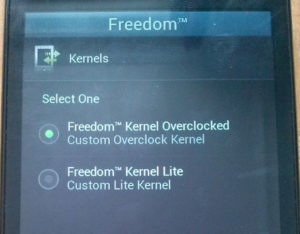 ×
Want more control over your device? Consider installing the LG Optimus F3 Freedom kernel lite or overclocked. With these kernels you'll have features like init-d or overclocking. There's also a few governors to play with to help manage performance.
When There's Freedom, There's Potential...
Freedom Kernel
There are two kernels to choose from within an Aroma installer. Full details below…
Both kernels are for the MS659 and P659.
Freedom Lite features:
Unsecured
Loki'd
Frandom built in for increased speed
Android TRIM Support
Conservative governor
SmartassV2 governor
Intellidemand governor
Superbad governor
Init.d support
Freedom Overclocked features:
1.404 ghz CPU overclock
1.3 ghz L2 cache boost clock – details
Plus all features of Freedom Lite
Instructions:
Boot into recovery.
Make a backup if you haven't already.
Flash the zip and choose the kernel you wish to install.
Done! Reboot!
lg, ms659, p659, android, kernels, phones

· More Articles ·